5 Legitimate Ways To Make Money Online in Nepal
Looking for legitimate ways to make money online in Nepal? You are in the right place.
In order to understand how do people earn money online, let's understand how do people make money in general? People make money based on their SKILLS. Whether someone works somewhere (in a job), or work freelance or even start a business, s/he makes money based on their skills. Hence, the first step in the process of generating money online is to develop a skill that pays off online.
Now, you must wonder where to gain skills? And how?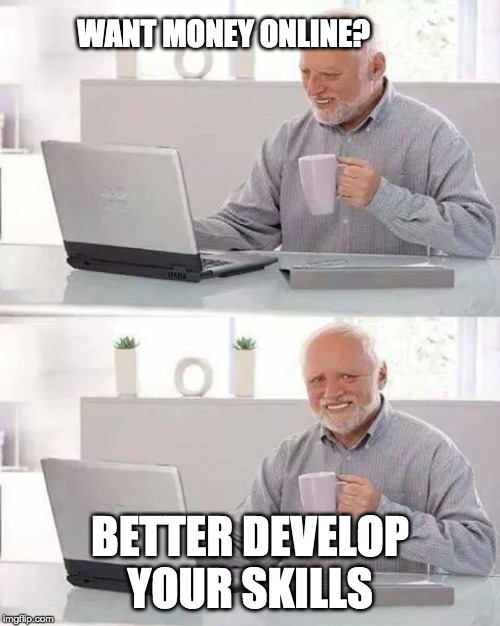 No worries, there is a myriad of ways to gain skills all over the internet. After all, the internet is the place where information is accessible at the tip of the hand. A lot of online course websites offer you the opportunity to gain skills as fast as possible. Here are few of those:
With the resource in hand, now you need to actively look for skills that pay off (especially in the context of Nepal). I personally gained a lot of my digital marketing and SEO skills through these E-learning platforms. Over the course of years, I've come to realize that learning skills are just half the process, you need to be able to apply the skill at the right time. Regardless of what skill you have, the most important fact that matters is how to attract and retain clients. Because in the end, you need paying clients. Or, at least you need to generate a system that makes passive money for you.
Below are few of the skills that pay off well (in the context of Nepal of course):
SEO
Digital Marketing
Blogging
Website Design
Copywriting
Videography / Video Editing
Of course, there are more – these are just a few prime examples of skills that work in Nepal.
Now, let's move to tactics (or let's say steps) to make money on the internet. Suppose you have gained the skills you need, or you already possess those, or even you're trying to go the traditional business approach in the context of the internet, you'll need a proper system. Remember that you might have more than 1 source of online income – you don't have to necessarily limit yourself to one.
Here are a few of the ways to earn money online in Nepal:
Freelancing
Blogging
Google Adsense
Affiliate Marketing
Sell Your Products
Freelancing
Freelancing is the go-to tactic to earn money online. The freelancing model has existed for decades – you get clients that pay. Of course, getting, clients has somewhat become easier because of the internet and how clients see a contractor's portfolio has changed because of the internet working model.
As a beginner, it would be somewhat difficult to launch that first paying gig.
However, once you have those first few gigs (which of course will not be highly paying gigs), you start gaining momentum and gettings clients will be a piece of cake.
Signup for a few freelance websites like upwork.com, freelancer.com or fiverr.com, and start bidding.
Learn Copywriting.
Of course, a lot of factors come to play when a client decides to hire a freelancer. One of the best strategies that a freelancer can develop is to hone their copywriting skills. Once you do that, you'll learn to understand your client better – why should they hire you over your competitors or what phase of the business they're in? You'll be able to answer all those questions once you start learning copywriting.
Best Copywriting Resource? Go through this article:
Blogging
Writing a blog post is easy, consistently writing blog posts is difficult.
Only follow this strategy if you have a sheer passion for this field. Most of the successful bloggers today started out blogging as a passion, which in turn helped them build a great readership. And they started upselling the course or used affiliate marketing to monetize that readership.
Although a viable thing, gaining huge traction through blogs is much difficult these days.
The best advice I provide to all the aspiring bloggers is to work on building on their readership and also brainstorm on the ways to capitalize on that readership without hampering the trust you've built over those times. In addition, learn to write your blog on a niche. Of course, as a beginner, you would want to write on every topic you know. Don't do this – always write with the target audience in mind – especially when you have to monetize later on.
Later on, you can start writing content that pays – for example, review blogs.
Google Adsense
Adsense works great if you have a website or a blog that gain huge traction every day.
Google Adsense is almost similar to any traditional advertising platforms. Just think of your website, or blog as a publishing platform, which people visit every now and then. Marketers and companies would love to place their advertisement on your webpage as you're getting the attention.
Google Adsense is the mediator for this.
Google has a large network of advertisers and content publishers and a complex algorithm to tie them all together. Adwords is the platform where advertisers bid and the AdSense is the platform through which Google decides where to place their advertisements. Adsense has a bit of competitive advantage over traditional ad placement because if the relevance (thanks to the data it collects from users.)
Affiliate Marketing
Don't confuse affiliates with advertisements, although it works somewhat in similar ways.
Affiliates mean referrers. People are referring to a company's product or service when they are an affiliate. The endorsement is a kind of affiliate marketing. See all those celebrity endorsements on media? That's somehow similar to affiliate marketing – except for the fact that you've got a content platform in order to be an affiliate.
Amazon is a prime example of affiliate marketing.
Let's say you wrote a review about a product on amazon. Once your viewers visit the link you provided, Amazon sees you as a referrer and if those people buy any products from Amazon within 24 hours, you'll earn some money as a part of being an affiliate.
Learn here: https://affiliate-program.amazon.com/
Sell Your Product
E-commerce is on the rise – not just in Nepal, all over the world.
If you're an offline store, it's time to brainstorm whether to take it online. We may start looking for products that people tend to buy online – books, home appliances, even groceries, or tech products. Your website has the potential to sell anything online. You just need an open mind for this.
These days, everyone wants to build a huge e-commerce platform like daraz.com (remember they have backing from Alibaba). Why not start small within our niche? Let's start by selling products we have expertise on, or even which we can sell in that manner.
21st century is the century of inbound marketing.
If you don't treat the consumer as God, you'll be dead soon (I mean your business), focus on the customer service – how you're gonna acquire and retain them.
Conclusion
In conclusion, the Internet is a legitimate way to make money online.
… only if you approach the right way.
Always remember that people always pay for the value you provide in their life. Think about the ways you can add value to their life. Will you do it by freelancing and helping other's business or through selling your products yourself – let me know through the comment section below